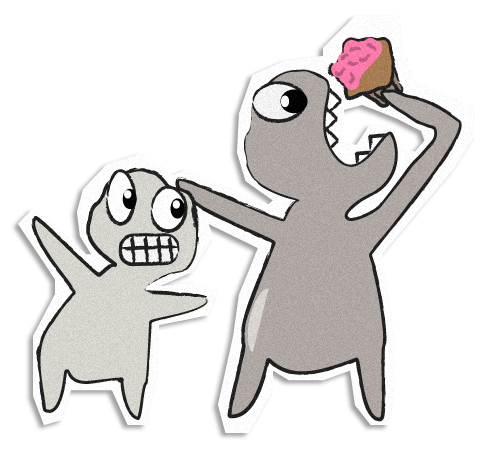 Odd and I were looking for a café where we can hangout a bit before he goes to work and me going to the gym. As we walked from our place passing this shopping center called Xhibition, I remembered this new café called Eat My Muffin. I've been there twice with some of my classmates. Their muffins and cupcakes are to die for. They're just sinfully good and the price is just right.
Here are some photos taken by my iPhone:

+ The Vulkan cupcake. I think it's a humorous reference to Iceland's volcanic eruption and its ashes creating a stir on Europe's air transportation.

+ We ordered the Vulkan and Oreo cupcakes.

+ Odd got the Oreo cupcake since he loves a dessert with Oreo cookies.
I think Eat My Muffin is a really catchy name for such an establishment though it sounded somewhat *whispering* dirty too. Especially with how the words being phrased at and the word muffin can be misconstrued as a female's genital organ. Some people think that they ought to change the name, but I think otherwise. I find it just appropriate and it's stuck in my head. Meaning, in the world of marketing they've done a nifty job with the branding. Lastly, If you're in Bergen don't forget to visit this wonderful café!
On a lighter note, I am still looking for a new design-related job and I hope this digital portfolio will prove beneficial to me. I am above begging, but I am a desperate student/designer/homemaker, so here it goes:
If anyone from Bergen wants to hire me please raise your hand and say 'I'!
That's all.
P.S.
The Muffin Monsters as all of the other illustrations in this site are done by moi using Illustrator.