Sorry for the late update. Been busy lately doing some more research work to supplement my book writing. It's going pretty well, albeit rather slowly. I hope I managed to get back on my normal momentum meaning writing a couple of pages or chapters per day rather than just a paragraph. By the way, my book is in English for those who are wondering.
At the same time I'm working with Renny's blog redesign and creating a logo while at it. I'm done with the logo, but I'm still in the process of deciding which layout best suited for his blog. I'll show it to the world soon! *wink*
Plus, I took a small vacay with Odd and travelled away from Bergen to his parents' place. It was a fun week and I was totally relaxed. I was proud of myself that I managed to stay away from my Macbook during the duration of my break. Though I did check Facebook from time to time through my iPhone, but I don't know if that counts.
Here are some random photos I took with my iPhone (since I forgot to bring my DSLR camera):

+ The Spinning Spider in Tusenfryd, an amusement park. I like the lines on this photo.

+ My brother-in-law, Ulf with his cotton candy. He is fond of creating silly faces every time someone takes a photo of him.

+ Took a boat ride with Odd and his father.

+ Odd and his father securing the boat on the docks.

+ A pair of swans (a cob and a pen) and their two cygnets. The cob (a male swan) hissed at me when I approached them.
And before ending this post, I'd like to share this music video created by our school faculty in Bergen (click the image below to see it). It's in Norwegian and the tune was from a song called Pretty Fly by The Offspring. The pregnant woman and the lady with the pink shades and frilly blue dress are our class teachers, Heidi and Iren. These two are awesome and I'm always thankful for their insights and critiques in regards with my designs and work process. They helped paved my way to become a better designer. Lastly, I'm always proud to be a Noroff student.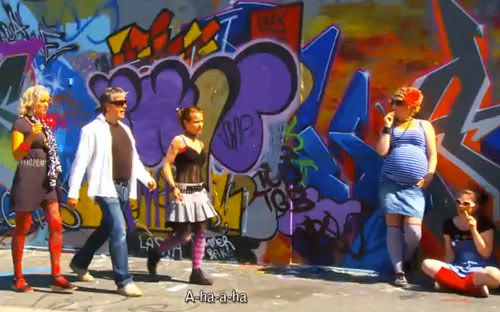 + Noroff musikkvideo 2010 Bergen.
That's all.
P.S.
Belated Happy Birthday to my dearest friend, Naomi!