My latest favourite Japanese pop song was currently blaring through my earphones when I was on my way to meet my classmate and friend, Christine for a shopping trip around town. It was a week after we arrived from Rome and I was still itching to shop something. Lucky for me Christine agreed to accompany me because she was also thinking of buying something for her upcoming birthday party.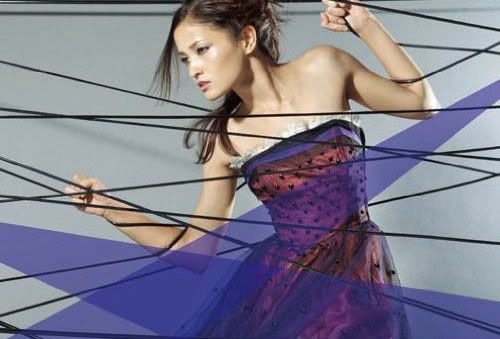 + Wired Life by Meisa Kuroki (click the image to see the video).
"Hi!" I said, smiling ear to ear when I saw her.
"Hello!" said Christine, who came closer to give me a hug and some air kisses. "By the way, Ken Marius is joining us."
"That's cool!" I said. Ken Marius was another classmate of ours and it's been a while since I saw him, so it was nice of him to join us. "So where is he now?"
"I don't know…wait. I'll try to call him," she said, taking her mobile phone out from the bag. After a couple of swipes and some tapping on the screen, she pressed the phone to her ear. A minute passed and she placed her phone back to her bag. " He's not answering. I'll try to call him again later, so for the meantime will just go around and if he calls then we can just tell him where we at."
I thought it was a good idea, so I nodded.
"Do you have any idea where we should start looking for your boots?" she said.
"Why not we start at Skostredet because it's not that far from where we are now," I said.
She agreed and off we went. Skostredet, a narrow street with small cafes, restaurants and fabulous stores. It's one of my favourite streets in Bergen and I considered myself lucky that I live a walking distance from it.
First, we checked T-Michael's store, but sadly they don't have the boots that I was looking for. As we moved on we chanced upon a store, which I thought was really cute. Once we came in, I was enthralled with what they have in store.
The store's name was Kamelone or Chameleon in English and I think it was just an apt name. Like a chameleon their products (mostly are Norwegian labels, so the quality is top-notched) could adapt to a wide variety of customers. Everything was drool-worthy. Christine and I were like children in a candy shop, checking out their products.

+ A fabulous weekend bag by Moo (a Norwegian label). The texture of the bag is just divine to our sense of touch!

+ A book of fairytales with illustrations by Gunvor Rasmussen.
We were somehow distracted from our mission, so I had to snap out of it and checked if they had what I needed. Sadly, they don't have the boots I was looking for. Christine on the other hand was lusting over these fabulous Pantone mugs, but she didn't buy it because it wasn't part of her plan on that day. (I bought the mug on a later date as her birthday gift in which she was so happy :)) So saying adieu to the lovely owner of Kamelone, we went on with our search.
We managed to get hold of Ken Marius and decided to have some tea in a cafe near the park. After an hour there, we went around checking almost all the high-end stores in Bergen. I still haven't found the boots I wanted until a sales lady from the last store we visited pointed me out to another store that might have what I wanted. True to that they have a pair of Burberry rain boots.
"Oh my god!" I said, gasping as I moved towards the display and grabbed the boots. I felt so elated when my hands touched the rubbery texture. "Hello, do you have a size 44?"
The sales lady looked a bit skeptical. "I'm afraid we only have until size 41."
"Really?" I said with a frown, looking at the boots on hand. "I'll just try it first and hope for the best."
And try I did, but sadly it didn't fit me and I felt somehow devastated. With a heavy heart, I trudged out from the store.
"Does it need to be Burberry?" said Christina with a sympathetic smile.
"Not really," I said with a hint of disappointment in my voice.
"Well, I think I remember…yes! I know where they sell nice boots that might whet your fashion appetite!" she said, her deep blue eyes were twinkling with sudden enthusiasm.
It was already five in the afternoon as I checked my phone. We were walking around for almost three hours! So we made another stop (before going to this place Christine just remembered) and this time in a bar. I ordered a drink called the Flashy Bitch while Christine and Ken Marius had some white wine and beer respectively. After staying there for like thirty minutes or so, Christine and I left the bar while Ken Marius stayed because some of his friends arrived.
"Telegrafen!" I said, almost slapping myself when she led me to this posh building, which was like ten minutes from where I live! It's right under my nose all along and I didn't realise that inside there was a store that sold shoes and boots. I got my boots and Christine got herself a lovely black dress. We were both satisfied.

+ Werqing the Hunter boots I just bought and a Sisley trench coat I got from Rome.
I learned a valuable lesson from that trip: Never go shopping without your friends!